Thursday 17th May 2007
By day I'm a 3D animator at Nexus Productions in London. I'd like to say that by night I fight crime but I mostly just go to the pub. So when George Schla asked me to make a music video I was wary as I have a tendency to over commit. Regardless of my intentions I'd be unlikely to finish anything that meant me coming home each night and working at the computer in 3D. Procrastination would win out and my pub to work ratio would probably increase.
So I had a bit of a think. Various unrelated thoughts coalesced and I was left with the idea of making a stop motion video using Lego. I've always liked Lego, and it'd be a good excuse to be reunited with my collection that had languished in my parent's loft.
I'd done a bit of stop motion at art college, but this generally involved disinterestedly pushing some cut-out paper around under a rostrum camera while dreaming of indie starlets. So I decided to have a bit of a read on the internet.
The excellent brickfilms and stop motion animation websites were very helpful. I realised there's a fairly lively stop motion Lego community, some of these films are great. There's something oddly stilted about minifig faces and poses that make them pretty funny to look at. If you don't believe me check out"Out of time" and"Words of wisdom" at Oblong pictures.
(edit : I've just gone back and realised "words of wisdom" and my video feature the same naked gag, I must have subconsciously nicked the idea, sorry Mr Oblong)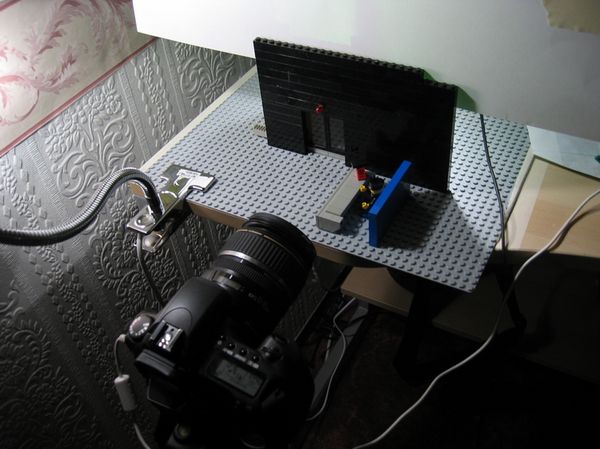 Anyway this was enough mucking about on the Internet, time to go back up north to pick up the Lego. I also "borrowed" my brother's castle Lego, thanks Matt. On the way home on a train I learnt that a lot of Lego rattling around in a big suitcase sounds very suspicious.
I got back, blocked out a story line and launched into a few technical tests shooting Lego with my camera. I really struggled to get any focus at the scale Lego demands so bought a close up lens adapter, this allows a camera to focus on objects that are almost touching the lens.
For lighting I used a big angle poise desk lamp and two cheap bendy spotlights from John Lewis, coupled with some coloured plastic gels this was an amateur but capable set up.
The other technical hurdle was how I'd see what I was shooting. Modern stop motion animators usually have a video tap from the camera to their computer. Allowing them to compare the live image with the last few images that had been shot. This allows you get all your poses perfect before taking the next frame. I'd read about a few camera modifications using webcams and glue, but I really didn't fancy adapting my digital SLR camera. So instead I shot blindly, using ACDsee to roll back through images as I shot them so I could get a feel for the motion. This often meant reshooting frames but it was a lot less expensive.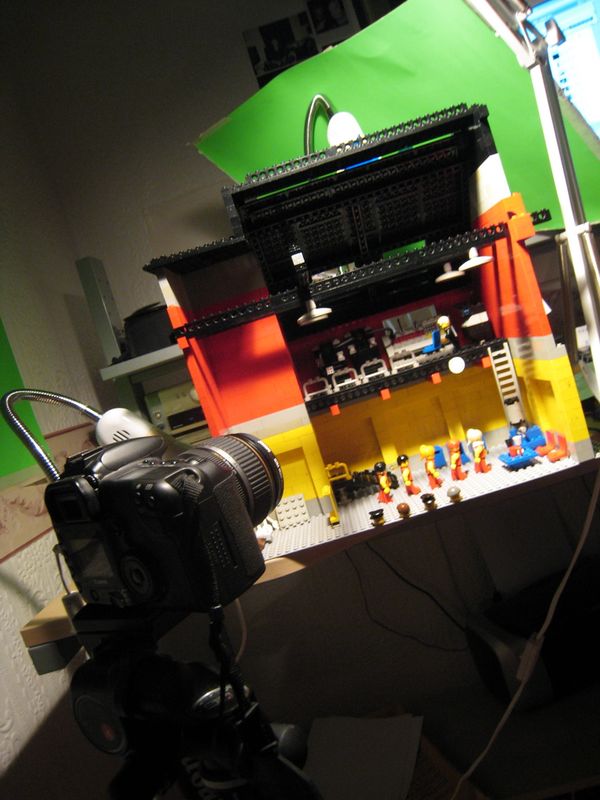 The shots that required a sky I decided to shoot with a chroma green screen, which was just some chroma green card stuck to a stiff backing board.
All the chroma keying and colour grading was a achieved in After Effects. This was actually the most enjoyable part of the process, It was nice dealing with real images of such a large resolution rather than the usual CGI images I work with.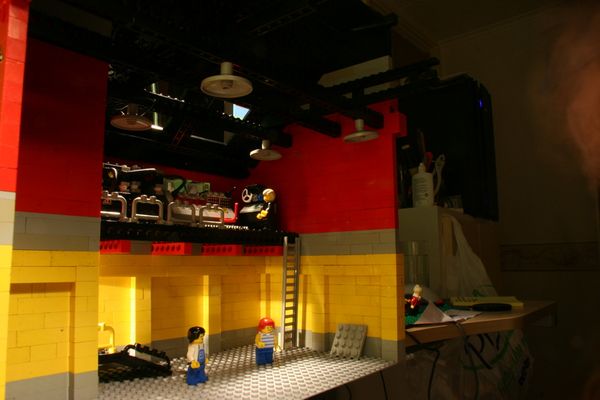 Technical Details
Shot using Canon 20D DSLR camera linked to a PC. Frames captured at 2544×1696.
Composited and graded using Adobe After Effects.
Edit and audio post production using Adobe Premiere.
Stills